At last they are available !<![if !vml]>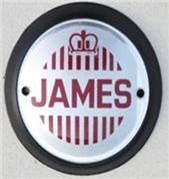 <![endif]>

Replacement James and Francis Barnett tank badges
and rubbers are now available
from Classic Transfers.

Click here for details.
I want to know about... The James CD-Rom. -



Only £10 or $20 US to any address in the world - click here to order
The British Two Stroke Club organised the
F.I.V.A. World Motorcycle Meeting 2011
See the photos.

James logo T-shirts

1930's gold on black or 1950's silver on maroon.
New - 'Simply Wizard' maroon on a white shirt.
£12 each to any UK address - post paid
£18 each to any address worldwide - post paid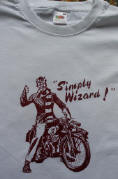 Click here for details of how to order.